Photojournal: The Making of your Letterpress Cards
by Mel Marshall -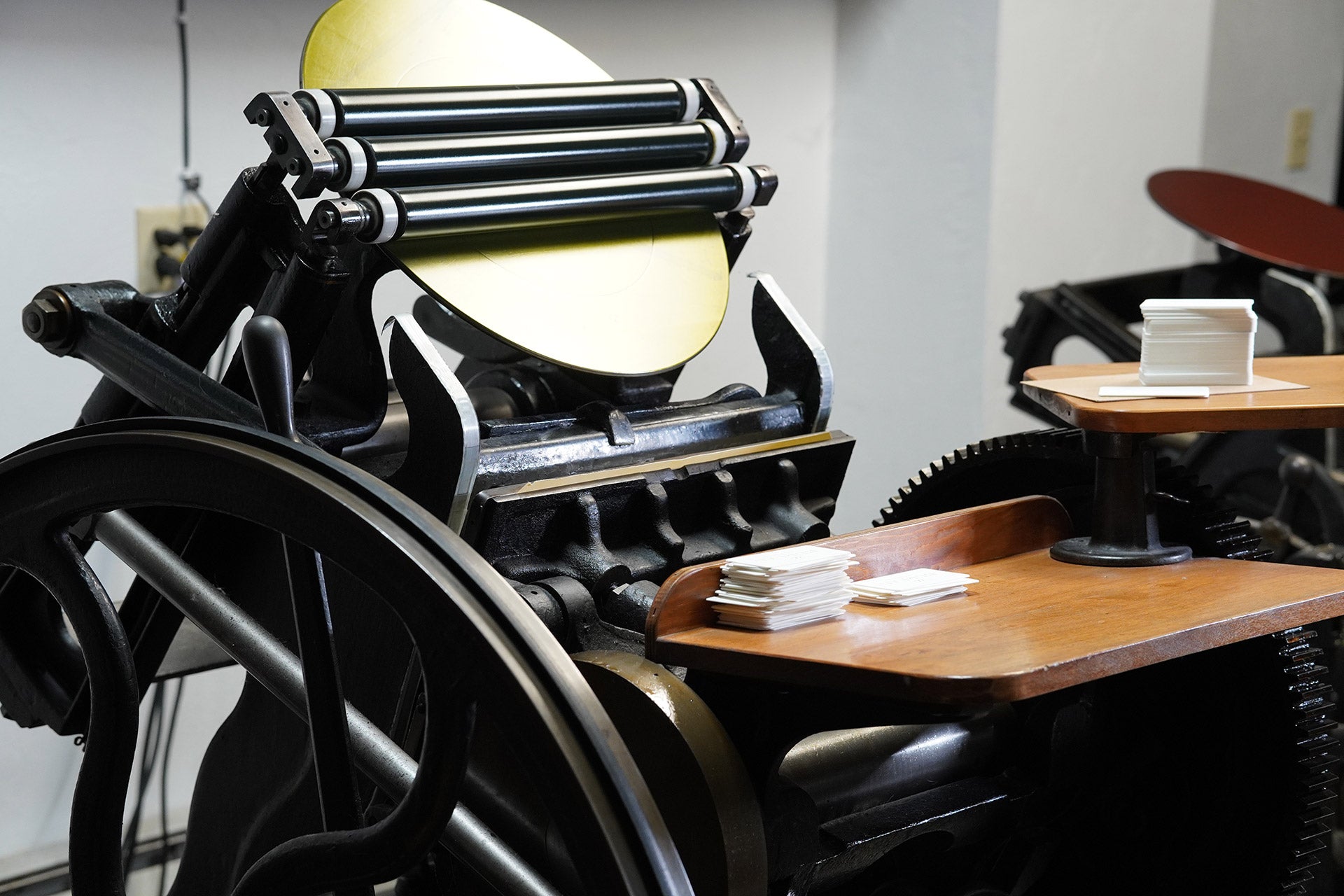 You've placed your letterpress order. Thank you! Now here's what's happening behind the scenes at Hoban Press while we create your letterpress order.
Design
Whether it's a custom design, or one of our pre-designed calling cards, each order starts with Evan meticulously creating your layout using vector graphics in Adobe Illustrator. He then shares the proof with you to ensure all information is accurate before moving forward with the plate making process — We love these photopolymer plates so much we have a blog post about them. Once your unique plate design arrives at the shop, we can start the printing process.
Paper Cutting
Letterpress printing is a detailed process, even down to the paper we use. Each piece is hand-cut by Ben, on a gorgeous blue antique c. 1920 Chandler and Price paper cutter. Starting with parent sheets of 100% cotton paper of varying weights, Ben cuts them down to the exact specifications needed for each letterpress style offered at Hoban Press — calling cards, notecards, stationary sets, and custom work.
Our blue Chandler & Price 26" guillotine paper cutter c. 1920.
Ben making initial cuts from the cotton parent sheets.
Rough cut stacks. Business cards are first cut larger than their final form to make room for back-cutting, which makes sure all sides are flush and smooth for the final product.
Cotton confetti after the back-cutting process.
Printing
Letterpress printing is much more involved than simply pressing "print" on a modern printer. Every step of letterpress printing is a process that hearkens back to a slower-paced time — when quality mattered more than quantity, when beauty was found in the process, and when both the maker and the buyer were proud of the finished result.
A start / stop switch and speed adjustment wired up next to our 1902 10" x 15" Chandler and Price Letterpress.
Printing: Ink
The first step in printing is to add ink to the ink plate. Many of our calling cards are printed with black ink, but any custom ink order will be hand-mixed using the Pantone Matching System to ensure an exact color match. If your design calls for more than one color of ink, the ink plate will be washed and new ink mixed and applied between each impression.
5 pound ink cans as part of the Pantone Matching System, which we use to mix and match specific ink colors.
Triple Beam Balance (probably from your high school chemistry class) and our Pantone Uncoated swatch books.
We use a flat stone (Corian) to mix our inks on.
Printing: Registration
The next step in printing is to affix your custom photopolymer plate carefully to the base of the letterpress to ensure a proper print on each card. Alignment tools and measuring guides are our friends for this process as we carefully adjust the photopolymer plate, print a proof, check alignment, adjust the plate again, print another proof, check alignment, etc. We do this plate registration process for as long as it takes to get your layout aligned perfectly.
Ben is registering a letterpress plate to a business card.
Ben is checking alignment before continuing with the print job.
Printing: Make Ready
We also adjust the packing of the letterpress — This "packing" is special paper or press board inserted behind the letterpress platen to achieve the proper impression depth for each job. The thickness of the paper as well as the size of impression will dictate how much packing is needed.
A card is fed onto a Tympan sheet and rests into a handmade guide to ensure proper registration throughout the print run.
Ben acting like he knows what he's doing. He does :)
Printing: Impression
Now that the ink, impression depth, and alignment for your order is correct, the printing process can begin. Each individual card is hand-fed into a Chandler and Price Letterpress — we have three in the shop dating from 1902–1945. The blank card is fed into the clam-shell style platen letterpress with the printmaker's right hand, as a freshly inked card is snatched from the press with their left hand. If the design calls for a blind (inkless) impression, or more than one color, it will be hand-fed again for each additional impression. So if you order a card with two or three impressions, an order of 100 cards will have passed through the press 200-300 times. The press must be washed and re-inked for each color change, and blind impressions require the ink rollers to be taken off — did we mention that letterpress printing is a process?
Once your cards are methodically printed and counted, they are finally ready for packaging.
Evan is feeding note cards into the press to be creased using a special creasing matrix that prevents paper cracking when folded.
Packaging
Each order is carefully wrapped and packaged, shipping labels created, customs forms printed (as needed), and your beautiful letterpress print order is taken to the post office to be mailed to you.
Custom packaging tape and stickers.
Thanks for your interest in our letterpress printing process! We hope that you enjoyed learning about the care and craftsmanship we put into every single order, and that you enjoy your Hoban Cards letterpress order as much as we enjoyed making it!
---
Thanks for Reading!
We not only love writing about letterpress, typography, and design – we're printers ourselves! We've chosen to carry on the tradition of letterpress printing by offering beautifully pre-designed cards at affordable prices.