The Alt Enthusiast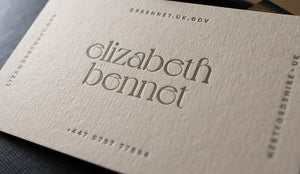 Description
The Alt Enthusiast is an alternative version of The Enthusiast. The highlight of the card is the name, which is typeset in lowercase Voyage, a beautifully designed typeface by French type foundry, VJ-Type. The contact information is printed in the historic Franklin Gothic, positioned around the four edges of the card. It's printed on thick 200# Colorplan Mist paper and printed using Pantone 7762 U ink. When ordering this card, be mindful of the length of information you submit for each line around the edges. Contact information that is too long may not fit, or not look balanced for this template.
Specifications
Bulk Order Discounts
If you're ordering for more than one person, bulk order discounts are automatically calculated in your shopping cart. Add multiple orders to your cart and these discounts will apply:
| | |
| --- | --- |
| 2 Orders | 10% Discount |
| 3 - 5 Orders | 15% Discount |
| 6 - 9 orders | 20% Discount |
| 10+ | 25% Discount |
Adding a Logo?
Our calling cards at Hoban Cards are purposely designed to be minimal and use beautiful typography as their main design element. However, we also help customers customize these templates further with added logos, specific typefaces, or fully custom layouts. If you have your own layout, or need us to help you design one, get in touch for a quote.
Request a Quote
Why Letterpress Printing?
Put simply, letterpress printing is a form of relief printing, where the text or image is on a raised surface, similar to a rubber stamp. Ink is applied to the raised surface and then paper is pressed directly against it to transfer the text/image. Learn More.
Save on Reorders
We create a unique letterpress plate for your order and keep it in our shop in case you want to reorder in the future. Reorders receive 20% off the original price.
See
the

Action

Our team of three have been printing these simple letterpress cards for over 10 years. As much as we love paper and ink, we equally love our turn-of-the-century letterpresses. See the full video.