The Grey Guildsman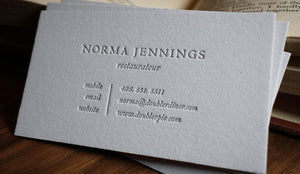 Description
The Grey Guildsman is a unique card printed in medium grey ink on light grey cotton paper. The name is set in the elegant Centaur, with contact information in Bell italics. The card's contemporary layout is tempered with traditional typefaces, lending the design a clean and well crafted look. Flexible enough for a variety of name lengths, this distinguished card looks its best with three lines of contact information. For a more conventional look, the standard Guildsman, with white paper and black ink, is available here.
Bulk Order Discounts
If you're ordering for more than one person, bulk order discounts are automatically calculated in your shopping cart. Add multiple orders to your cart and these discounts will apply:
| | |
| --- | --- |
| 2 Orders | 10% Discount |
| 3 - 5 Orders | 15% Discount |
| 6 - 9 orders | 20% Discount |
| 10+ | 25% Discount |
Adding a Logo?
Our calling cards at Hoban Cards are purposely designed to be minimal and use beautiful typography as their main design element. However, we also help customers customize these templates further with added logos, specific typefaces, or fully custom layouts. If you have your own layout, or need us to help you design one, get in touch for a quote.
Request a Quote
Why Letterpress Printing?
Put simply, letterpress printing is a form of relief printing, where the text or image is on a raised surface, similar to a rubber stamp. Ink is applied to the raised surface and then paper is pressed directly against it to transfer the text/image. Learn More.
Save on Reorders
We create a unique letterpress plate for your order and keep it in our shop in case you want to reorder in the future. Reorders receive 20% off the original price.
See
the

Action

Our team of three have been printing these simple letterpress cards for over 10 years. As much as we love paper and ink, we equally love our turn-of-the-century letterpresses. See the full video.